Des ressources sur les bons sièges d'auto
Les ressources en question visent à fournir des renseignements sur la sécurité des enfants en voiture en plusieurs langues et pour les familles qui pourraient être peu alphabétisées.
Les ressources en question comprennent des vidéos informatives de courte durée ainsi qu'un livret qui présentent des renseignements de base tirés du document « Votre siège d'auto convient-il à votre enfant? », qui est offert en français, anglais et mi'kmaw.
Comment utiliser les ressources en question
Retrouvez un guide "Comment faire" ici :  français / Anglais
Child Safety Link a organisé un webinaire sur les nouvelles ressources "Le bon siège" et sur la façon d'utiliser ces ressources pour soutenir les familles le 10 septembre 2021. L'enregistrement de ce webinaire est maintenant disponible et peut être visionné sur YouTube au lien suivant : https://youtu.be/P6mXBJjzrtE
The videos
Chaque vidéo dure entre quatre et cinq minutes et permet à la personne qui la visionne de déterminer si un enfant est dans le bon siège d'auto. On présente aussi des conseils de base sur la façon d'utiliser chaque siège d'auto. Chaque traduction a été révisée par des partenaires communautaires afin de s'assurer qu'elle est adaptée à la culture d'arrivée. La vidéo, dans chacune des 9 langues, se trouve dans la liste de lecture YouTube suivante : YouTube playlist. 
Image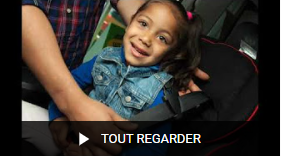 The print resources
Each print resource covers the same points as the video and can be printed with English on one side and each additional language on the other side. The print resource is intended to support an English speaker assisting a caregiver in the other language.
Les ressources sont conçues pour vous aider dans le travail important que vous faites pour promouvoir la sécurité des enfants en voiture et prévenir les blessures. Voici quelques suggestions pour faire connaître la présente ressource.
Ajoutez une séance sur les thèmes de la sécurité des enfants à la fin d'un groupe de soutien parental ou prénatal, où vous pouvez présenter cette ressource ainsi que d'autres ressources. Communiquez avec nous ou consultez notre site Web pour obtenir davantage de ressources sur la sécurité des enfants en voiture et sur d'autres sujets liés à la sécurité.

Les visiteurs à domicile et les responsables des programmes de soutien parental peuvent utiliser ces ressources pour compléter les programmes de sécurité des enfants et des jeunes.

Si votre organisme offre des sièges d'auto gratuits ou subventionnés, prévoyez quelques minutes pour visionner la vidéo avec des familles et répondre aux questions qu'elles pourraient avoir. N'oubliez pas que vous pouvez appeler notre ligne téléphonique sans frais pour obtenir de l'aide.
Affiche
Cette affiche est disponible en format 11 x 17 sur demande. 
Image

 

Image

 
Avez-vous des questions? Child Safety Link est là pour vous.
Pour obtenir une aide supplémentaire, communiquez avec Child Safety Link en envoyant un courriel à childsafetylink@iwk.nshealth.ca ou composez le 1-866-288-1388, poste 1 (sans frais au Canada atlantique).