Are you planning a trip this March break?  Will this be baby's first flight? What do you need to know to keep your baby safe and happy on that first flight and every flight? Child Safety Link's Child Passenger Safety expert Katherine Hutka answers the most common questions we have received from parents and caregiver
Q: What is the safest way for a baby to fly on a plane?
The safest way for anyone to fly is securely buckled into their own seat. The same is true for our smallest passengers. Small children are safest using their own car seat, buckled secured to the airplane seat.  All car seats come with instructions for how they can be secured on an airplane seat.
Image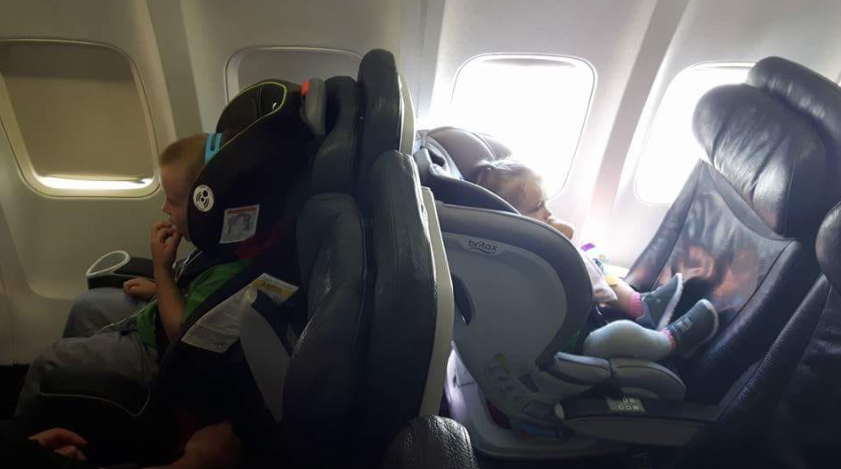 Q: I thought I could just hold my baby in my arms?
Although airlines currently allow infants to fly on a caregiver's lap during flight, Transport Canada strongly recommends that all children are buckled in their own seat for all phases of the flight. For a babies or toddlers under 40 pounds, that includes being buckled into a car seat that is secured to the airplane seat.
Q: Why isn't it safe for a child to fly on a parent's lap / in their arms?
Although it is currently permitted for children under 2 years old to be held just in their parents arms, we know that children have been seriously hurt and even killed during hard landings, runway emergencies and even turbulence. A parent's arms are simply no match for the G-forces involved in air travel and turbulence can come on very suddenly.
When you look around an airplane, EVERYTHING on the plane is required to be secured, from your purse to the coffee pot.  The only exception is for a child under 2 years old.
Image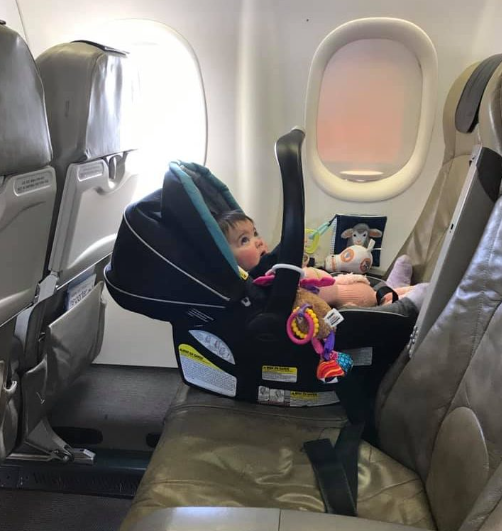 The facts are startling: We know that children under 2 make up less than 1% of passengers BUT make up 35% of pediatric in-flight injuries. These includes injuries from turbulence but also injuries children have sustained from falling into the aisles, and scalds and burns during meal service.
Q: Are there any other reasons families should plan to bring a car seat on an airplane?
Bring in their own car seat can mean an easier flight with a baby or toddler. Your child will likely settle more easily into their own familiar seat.  It could mean that you all arrive at your destination better rested and ready for adventure.
After you arrive at your destination, it's helpful to have your seat with you as you walk off the plane. You can be assured that it hasn't gotten lost or damaged with baggage handling.  You will also already know how to use your own car seat correctly into vehicles you are using on the next part of your trip.
Q: What about older children? Should a booster seat be used on an airplane?
You cannot use a booster seat on an airplane seats. Older children should use the lap belt on the plane and store their booster seat in the overhead compartment so that it will be with you when you land and it won't have gotten lost or damaged.
Q: Are there any other options families should know about?
The CARES harness is approved by Transport Canada and can be used by a toddler or pre-school aged child from 22 – 44 pounds to help support them securely on the flight. This harness is perfect if you are travelling somewhere familiar with a car seat already waiting for you at your destination.  The CARES harness is not a car seat. The CARES harness can be purchased online or rented from some specialty baby stores.
Image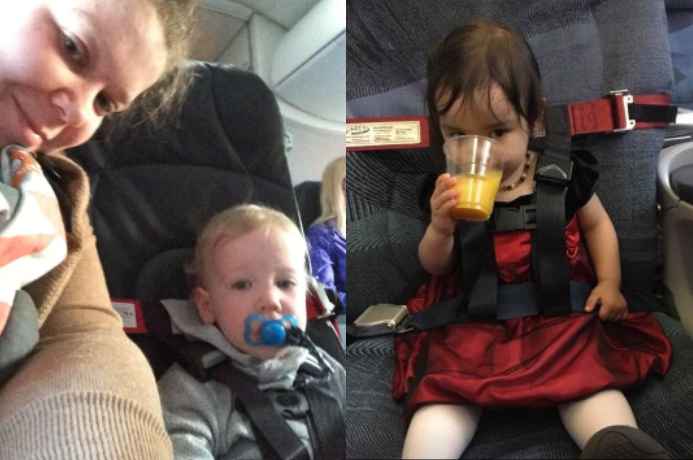 Q: Where can I get more car seat information?
Find child passenger safety information for every age and stage of child, including helpful fact sheets on each kind of car seat, checklists and instructional videos here on our website. Follow Child Safety Link on Facebook and Twitter to stay connected with the latest news, trends and recalls pertaining to child passenger safety. For questions about specific car seats, contact Child Safety Link at 1-866-288-1388 (toll-free in Atlantic Canada) or 902-470-7036, or email childsafetylink@iwk.nshealth.ca 
Image